Lily, I love you. But asking someone to come see your play is like asking for a ride to the airport, or to crash on someone's couch or to help you move. Call a cab, book a room, hire some movers and repeat after me, friends don't let friends come see their crappy play! -Barney, How I Met Your Mother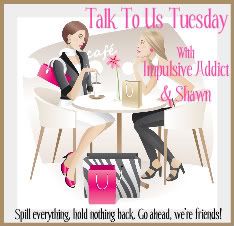 With the ever fabulous duo: Impulsive Addict and Seriously Shawn.
-I officially got the keys to our home yesterday! Woohoo!!
-I scheduled this post because my internet is off at the old place. Here's hoping that the Comcast modem gets here quick!
-The first thing I did at the new place was attack the months of dirt and cobwebs that had accumulated. My kitchen doesn't seem nearly as dark now that the dirt's gone!
-The movers should be here by 8:30 this morning. My first time using movers and I'm pretty excited about it. It's going to be so weird not helping, but also awesome.
-I'm going to be in an unpacking frenzy this week. I can't wait to put our personal touches on everything.
-Hope you're all having a great week. Can you believe it's already mid November? Where the heck did the time go?!