Tim: [helping Billy paint the nursery] Billy, if I threw up on this wall you wouldn't even know it because this color is puke.Billy: It's mustard! –Friday Night Lights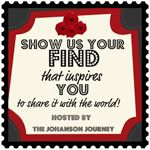 Ok, I couldn't resist. I had to show you guys what the tree mural and nursery looks like so far. I'm still working on the window seat, and we are waiting to do the leaves until we find out what we're having. I want to do either cherry blossoms for a girl, or fall type leaves for a boy. I am also going to work on attempting to sew some felt animals and hang them from the tree. I'm so happy with how it turned out. I still can't believe Match free-handed the sketch. The inspiration came from Houzz, which is an amazing website full of cool home decor photos.
I'm glad I worked on the painting now, before my belly gets in the way. I had trouble enough with smearing! Notice the little stuffed Kangaroo in the corner? Geeky brought that over on Sunday. Roo's very first stuffed animal. I love it!
I'm so excited for all the pieces of the nursery to come together. After the ultrasound on March 6th, Match said we can buy the crib. The minute that crib is in the room it's all going to feel so real!