Dr. House: I scammed you into doing the dishes, I made you sit on the steps, I didn't kill your puppy. I did not make you miserable.
Dr. Wilson: Oh, so this is therapy?
Dr. House: No it just… makes me smile.
Dr. Wilson: All right, I'm finding a new place tomorrow.
Dr. House: Right, but not tonight.
Dr. Wilson: Well, I figure you wanna shave my eyebrows while I'm asleep— I wouldn't wanna deprive you of that last smile. -House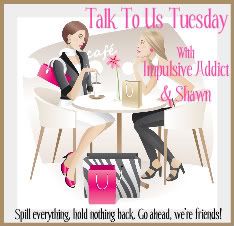 with Impulsive Addict and Seriously Shawn
Today I'm also linking up with:
1. Baby kicks! They wake me up every morning and guarantee I will start my day with a smile. He also likes to give me soft jabs right before bedtime, so as I'm drifting off to sleep, he's reminding me that he's doing just fine in there. I also love that Match is consistently feeling him too. The kicks are getting harder and unmistakable! 
2. Monkey sharing his bed with Fluff.
Are they not just the cutest? I love how she just sauntered over to his bed to cuddle with him. I'm not sure he would have let an older dog do as much . I love how patient he is with the little pup when she visits. It bodes well for Piglet (at least I hope it does!) and hopefully he'll have lots of patience with him too.
3. My new smartphone. Yep, I finally caved and got another smartphone, after going almost 2 years without one. It's a refurb, and it was only 99 cents! I couldn't pass up a deal that good.  Since having it back I've been a lot better about not letting it suck away all my attention. I scored this really cute case for it for cheap too. How cute is the black and pink?
4. Match cuddling on Geeky's couch with her humongous dog Horse. I love that Horse still thinks he's a lapdog. 
5. My new drink holder. 🙂 I've been waiting to get big enough to do this trick for awhile. I'm pretty sure Match is going to want me to hold his beers from now on. 😉

6. Hanging with most of The Group for game night. Every time I get together with them, I'm reminded of how much I love this crazy crew. There have been talks of an adult prom in the works for either late this year or early next. I really hope it happens because with this group it's guaranteed to be a good time. 
7. This picture, and not just because it's a nice one of me and Match. It makes me smile because when I posted it on Facebook, it prompted my cousin's girlfriend to comment, "Damnn girl, check out those baby feeders!" It makes me laugh whenever I think about it. As a solid A cup pre-pregnancy, I have to admit, it is good sporting these "baby feeders". 
8. This beautiful weather, and being able to get out and enjoy it. I might sound like a broken record, but I just can't even tell you how grateful I am that I get to be so active this pregnancy. Match, Monkey and I went on an hour and a half long walk in the park last week, and I felt so strong! It was incredible. 
9. Watching Monkey smile when we take him on walks. Who says animals don't feel emotion? That is one happy pup right there.
10. Seeing this face at my Dr. appointment yesterday put a big smile on my face.  Forgive the quality of the picture, but if you look close you can see that he has Daddy's chin.