You stank. You stank to high heaven.-The Spirit of Truth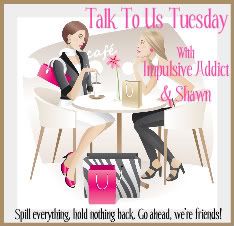 with Impulsive Addict and Seriously Shawn

Yay, it's Tuesday and that means it's time for Talk to Us Tuesday! I just got back from camping two nights ago and I need to catch up you all. So grab your favorite beverage and let's chat shall we?
We just got back from the river on Sunday. I already miss it.
In another life, I would have been a river guide in my college summers off. A summer out in nature, getting great exercise and hanging out with fun co-eds? Sounds like a dream job to me.
Ladies, let me tell you, eye candy galore. I think it was a requirement that the guides all be extremely good looking. Male and female!
Match may have caught me starring at shirtless Rippling Muscles Aussie Guide, but then laughed when I caught him starring at Perky Blonde Guide wearing nothing but a swim top and cut offs. Whatever preheats the oven folks! Just as long as he's still coming home with me. 😉
I made it down the river without falling out of the boat! Sadly can't say the same for the other girl in our boat, but she was just fine. It was actually pretty funny.
 I'll do a full write up soon, we are still waiting to get the pictures.
On the drive home, we ended up going house hunting and putting in an offer (#3!) on a home.
Fingers crossed because I'm so ready to move out of this town and set up some roots. I'm also sick of getting my hopes up and then being disappointed, so I'm trying very hard not to get too excited.
I may have been very conscious that we were all camp stank from our trip while we were hunting with the Realtor. Plus the AC stopped working in the Subi for part of the trip back. So we were all kinds of stinky.
I tried to stay downwind of our Realtor. He's working hard for us let me tell you!
So what's new with you? Catch me up!