"Country roads, take me home. To the place, I belong." -John Denver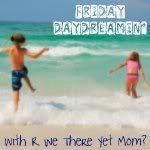 Today I'm off on an Ikea adventure with Tahoe Girl. Then we're spending the weekend hanging out. It's her mom's 60th birthday on Saturday and she invited yours truly to help decorate for it! Tonight we're going to hit up a happy hour and just kick back. I'm really excited for our little weekend.
But part of me is already daydreamin' about an upcoming trip I'm taking with Match in November. I mentioned he's in the middle of a TEN day work week right? Well he's doing a shift trade so he can score himself ten days off in late October/early November. I can't wait!
We're heading to Oregon to visit my family, and the in-laws just may be tagging along. We're talking about having an early Thanksgiving. I can't tell you the last time I had Thanksgiving with my family. Sniffle. Also Match hasn't been home to visit my folks since we got engaged back in December of 2009, almost 2 years ago!!
I can't wait to go home and wander the beaches.
Go back to the park where he proposed and get a picture during the day. You can't tell here, but he proposed on a cliff side overlooking the ocean with a full moon. It's that tiny dot in the picture.
and spend some quality time with my family. Match is such a hoot in Oregon. He runs around like a country boy, chasing the goats and driving like a banshee on the four wheeler. We're also hoping to make a lot of pit stops on the road trip back and make an adventure out of it.
Look at that shit eating grin. I can already see him buying an SUV with a thule ski rack and moving us to the sticks. That boy belongs in the country!
I'm really looking forward to showing the in-laws around my little town and the house that built me. I couldn't wait to get away from it when I was a teenager, but now I can't wait to go back. Funny how getting older does that to you.