Dennis: Hi. Dennis Duffy, Beeper King.
Jack: The Beeper King, really?
Liz: Dennis has his own business. Yes, he's an entrepreneur. He's very successful.
Dennis: You've probably seen my ads on the seven train, right? –30 Rock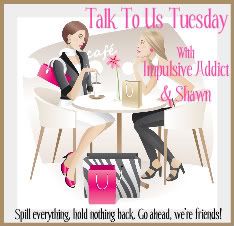 with Impulsive Addict and Seriously Shawn.
For a long time I've been searching for someone to partner up with on a new blog venture. I see coblogs, and team ups, like IA and SS, and I love the connections they seem to share. I wanted that! So when I started chatting on a daily basis with the lovely Janette Johanson, we got to brainstorming. We both love finding new products and ideas and sharing them with our readers, so why not have a blog that does just that? We've also brought Ashley from Cherished Bliss, an awesome DIY crafter and aspiring blog designer to round us out. Together we are the Red Carpet Ladies. We've been hard at work the past few months on a new website, which some of you already know about.
We still have a few kinks to work out, but we couldn't wait to share it with you!
To kick things off right, we're doing a give away for a Vera Bradley BAG valued at $84!!
We are giving away this adorable lime Vera Bradley bag. Doesn't Janette make a great handbag model?
Head on over to the RCL website to enter the giveaway!