Robin: So if it weren't for you, Ted and I would still be dating?
Lily: OR you would have stayed together far too long, had an incredibly bitter breakup and not even remain friends and [teary eyed, to Robin] you and I would never have become best friends.
Robin: You don't even have to say that. [Hugs Lily] –How I Met Your Mother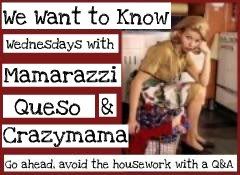 I'm playing along with a little q & a in the first ever We Want to Know Wednesday. Click on the button to join in the fun!
So here we go:
1. Do you make friends easily?
I make friends in line at the grocery store. Making new friends comes really easily for me, but I guess they are more acquaintances than actual friends. It has been harder to make friends the last few years though. It was so much easier in college. At my last job I worked alone 90% of the time. Now that I'm not working it may actually be easier. Especially if I can sign up for some classes. The older I get the more I'm realizing that I don't want just acquaintances either, I want real quality friendships, and they are harder to come by.
2. What 3 qualities are a MUST in a friend?
#1 honesty-if I can't trust you then we can't be friends. #2 sense of humor-if we're hanging out and we're not laughing something is very wrong. #3. Dedicated-I have had friendships fizzle because I felt like the only one putting in any effort. Friendships are relationships too and they can't just be one sided.
3. What makes YOU a good friend?
I'd like to think I have all of the above qualities I mentioned. Sometimes I'm brutally honest but most people appreciate that. I am also the kind of friend who goes all out. Birthday, wedding, whatever it is. I will make the extra effort and do something special. I love making presents for my friends and spending quality time together. even if that quality time is chatting on the phone, texting or online. Just making the time you know?
4. Have you ever met a bloggy friend in real life? Yes? Tell us about the meet up. No? Who would you love to meet?
No I have never met a bloggy friend in real life but I am getting braver. Remember when I used to not post my face? Now I post pictures and I even posted a video blog. I've come a long way people. So I wouldn't say never. I feel closer to some of my favorite bloggers and I feel like I know you already. Meeting up would be a lot of fun, and I don't doubt that one day I will grow girl balls and actually do it!
5. Who is your best friend? Tell us about them.
I know it's cheesy, but Match is my best friend. When we first met we sat down together and it felt like we had known each other our whole lives. There is no one I'd rather spend time with and I love how silly we are together.
I've been in relationships where my partner wasn't my best friend and that is so not the case with us. We tell each other everything. Sometimes we stay up late at night just gabbing in bed for hours. I love that about us. I mean, who wouldn't love this guy?
I have a good number of close friends that aren't bestows but they are great people. Couple Wife is my go to for a gossip fest. Geeky and I are getting closer too. Monica, Tomboy and Tahoe Girl are all great girls and I'm so happy that we're friends. Old Married Wife and I have drifted, but we are still pals. PHD Girl and I have been friends since 2nd grade, and even though she's on the East Coast I like to think we'll always stay in touch. There are also the new friends I've made through Match's job, Sassy and Good Girl. I'm hoping to make closer connections with them as time goes by.
My whole life I've always had an easier time being friends with guys, such as Ex Best Friend (he's not my ex friend, just my ex, it's a long story). I just realized we've been friends for almost 7 years now. There's also Chandler, who kept me company all of those weekends when Match had to work nights and I was bored to tears. I value their friendships but I make sure Match is always #1. The older I get the more I am enjoying couple friendships rather than the one on one platonic boy/girl friendships. I think as a single person that's fine, but I realize if you're going to be best friends with the opposite sex, it really is best if it's your significant other. Saves me a lot of drama and unnecessary jealousy!
I am also extremely close to my mom, even though she lives in Oregon. I don't talk about her often on the blog but we talk at least once a week if not more. She's the first person (besides Match) that I tell about anything exciting or newsworthy in our lives. Except any argument that I have with Match. She gave me the best advice a long time ago when it comes to relationships. "You keep your relationship to yourselves. If you come to me to vent, you'll get over it the next day but I will hold a grudge against him because you're my baby girl." If there were ever any real issues of course I could tell her, but she's so right. Plus her and my Pops love him so much they'd probably just side with him anyways. 😉 I'm lucky that we have such a close relationship. It wasn't always perfect and we don't do very well if we're together for long stretches of time, but I am very lucky to have a mom that I can count as a friend.
Then there are my blog friends. There are some of you that have been loyal readers for over 3 years now. I've followed along with your lives and I feel like if we've gotten to really know each other. You've been with me for all the big moments, and I've shared some awesome milestones with you too. I am so lucky for my bloggy friends. You know who you are and I just want you to know how much I appreciate our friendship.