Charlie: Alan, you know the difference between you and me?
[Charlie falls through the deck]
Alan: Yeah! I wouldn't fire the handyman before he finishes! –Two and a Half Men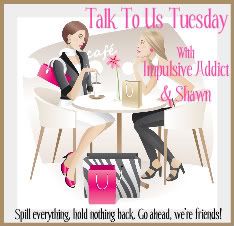 With the ever fabulous duo: Impulsive Addict and Seriously Shawn.
So Tuesday passed me by, but since there are no rules, I'm writing up my TTUT on a Wednesday. Cause I CAN.
I haven't had much computer time lately and I'm missing it and all of you! I've been so busy cleaning up and getting our house live-able, and also dealing with a few issues with the home. As you homeowners can attest to, the unexpected crop up when you buy a home.
The first was the guest bathroom toilet. Match flushed it and noticed the water had been turned off. When he turned it on, the tank kept filling…and filling. Luckily we turned it off before we had a flooding incident. So we spent his first day off elbow deep in the toilet tank. There was a plier fiasco, and I was the one who ended up getting the broken toilet float out of the tank. Hurray for small fingers! We high fived after surviving our first home improvement project together. Oh and notice he was using my tools. 🙂
The second, more significant issue that came up was when my beautiful washer and dryer were delivered to the house on Wednesday. Did I mention I scored these lovelies?
Got them for a black Friday deal, $1000 off regular price! I couldn't wait to use them.
Unfortunately, the dryer's electrical outlet didn't work. When we checked the circuit breaker box, we discovered the dryer breaker was actually missing. So we waited on an electrician to come out and fix it which didn't happen until Sunday. I was in desperate need of clothes. I was down to one tank with a cupless shelf bra grubby jeans. Not pretty! By the way it works beautifully. If anyone is in need of a new washer or dryer I highly recommend LG. They are amazing!
The other big fix it project we worked on was in that same guest bathroom. There used to be hideous shower doors that were covered in a layer of dirt. I hate shower doors, so we ripped them out.
Yes I have plumber's crack. Now I'm a true handy girl! 😉
Here's what it looked like the next day, after I'd painstakingly chipped away all the old caulking and grime and re-caulked the tub.
IA, your bathroom is all fixed up. You can come visit now!