[to his girlfriend Lady] I think it's time you learned the real me. Here we go. I'm not… like normal people. I don't have superpowers, but I'm working on it. For instance, watch me move this pen. [stares at pen; it doesn't move] It worked at home. I don't know. Maybe my table's slanted. Uh, anyway. Um, in my spare time, I also enjoy stuffing animals. Usually with other animals. For instance, a badger will hold five squirrels. A squirrel will hold most of a cat. A mouse will hold a shrew and a vole. You get it… the circle of life. I have broken the sound barrier, but you must never ask me how. I don't believe in the moon. I think it's just the back of the sun.-The Janitor, Scrubs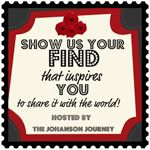 I haven't actually done this yet, but I wanted to share it with you anyways. I'm stuck on this couch for the foreseeable future, so I thought I'd start up another sewing project. I've been wanting to sew animals to hang in Roo's nursery tree. I found these patterns on etsy, and I am going to take a stab at it.
I'm still a complete beginner when it comes to sewing, so we'll see how these turn out. Hopefully they'll look like cuddly woodland creatures and not scary badly sewn nightmare animals. That'd just be cruel to hang in a baby room dontcha think?