Grams: Not a good time, girls. I'm busy.
Paige: You're dead.
Grams: Well, it doesn't mean I can't have a life. –Charmed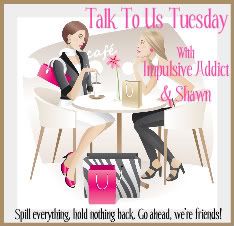 Tuesday? Whaa? Ok this month is going by too fast already. Sloooow down. Like IA, Seriously Shawn, and probably the rest of you, I'm feeling really behind in my blogging. I have so many fun things to tell you guys about, but things are crazy busy right now and I haven't had much time to blog about it all.

I've also been awful about updating my Project 52 list. I will say that I haven't forgotten about my dear old list. I've just been too busy checking things off to write about it. Here we are in the final month, and I have to say that while I haven't done everything on the list, I did make a big dent in it.
Here's what's left to do:
–Get at least 100 readers: I'm sad that this one didn't get fulfilled, but I did go from I think 48 or so subscribers to 79. That's a good solid jump, and I appreciate each and every one of you! Maybe next year I can hit that 100 mark. It would help if I were a better commenter too.
–Take a CPR Class
Take a Cooking Class:
-again sad to say but these probably won't happen. With the move it was just a crazy year, and we're pinching pennies now. I'm hoping after the new year I can sign up for at least the CPR class.
Go to the drive-in movie theater:
-well now that we've moved the drive in is pretty far away, so again not something I see happening anytime soon. Sad really since the price of the movies are so much less, and the experience is so fun!
–Take a boat ride in San Francisco on Stow Lake:
this one is definitely not going to happen, as I ran it by Match and he hated the idea. Ha. So I will come up with something else for next year.
–Go ice skating:
This will happen before the month's end, mark my words. Match PROMISED he'd take me this year. I've only been begging him for the last 3.5 years to take me ice skating. It's happening!!
–Visit the zoo:
there is still time, and we live closer to the Sacramento Zoo now, which I would love to visit. I've never been and I've heard some good things about it. I'm hoping to sweet talk Match into going with me soon. Though all the animals will probably be hiding since it's winter.
–Sing a Song I've Never Sung Before at a New Karaoke Bar:
this one is so easy to do, and yet I just haven't gone downtown yet. I am sure there's karaoke somewhere in this new town of ours, and I just have to get out there and find it.
As for the reoccurring goals, there are some I've done a pretty good job of maintaining, such as making sure I use best buy coupons when I do my shopping, and others I've failed miserably at. I'll wait til the end of the year to do the full recap of those epic failures (and successes!) I'm already looking forward to making my list for next year.
Did you do a Project 52 list this year? Did you keep up with it?