Jess: [In an old-timey newscaster voice, wearing the starfish lingerie] You are hot, hot, hot.
Paul: Thank you.
Jess: Hello, weather service? Oh! There's a heat wave from Portsmouth to Port, Kansas!
Paul: I don't know, I don't… what is happening.
Jess: We're talking dirty, Slim. –New Girl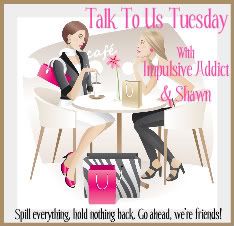 with Impulsive Addict and Seriously Shawn.
Our Carmel vacation was amazing, but as most vacations go, it was far too short. I feel like we could have used at least one more day.
On our way home, we got stuck in traffic. There was an accident of some sort, and what was supposed to be a 3 hour drive took us 5 very frustrating hours.
Driving home we watched the temperature go from a wonderful 65 degrees to cringe-worthy 104. YUCK! I want to go back to the beach!
Match has been working so hard lately. He's actually been working 18 hour days back to back, and sleeping in the sleep room. It sucks having him gone all weekend, but then we get 4 days together. He's on a mission to earn a lot of overtime $$ so we can get some house projects done, and we can save for another vacation. I'm glad he's motivated, but I think I'd prefer if he worked a little bit less.
Last week I won a Juppy in a contest Rebecca was having at Everyday Life Blog! If you haven't heard of a Juppy, it's this really nifty little walker helper for toddlers. I just know one day we'll get to use it for our future little one.
I went to the salon on Friday and took off a few inches to my hair, and added some short layers. It was a pretty subtle change, but I'm so happy with it. 
I still need to see how it looks when I actually style it. I got my hair cut when it was 103 degrees outside. I was sweating in that salon chair!! It was pretty embarrassing to get up and have sweat marks on the chair. But come on, turn the ac up ladies!
This week we're planning on joining a local gym. I'm excited to start up my workout classes again. They also have free AC and a pool. I may camp out there til this heat wave is gone. 😉
What have you been up to? Are you as sick of this heat as I am?