Um, could we go back to the haunted house? Cause, this is creeping me out.-Buffy the Vampire Slayer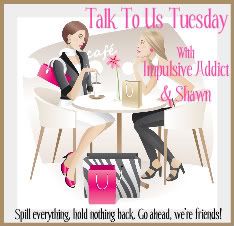 It's my fav bloggy day of the week, Talk to Us Tuesday with Impulsive Addict and Seriously Shawn.
Last week I told ya we were heading to the Pumpkin Festival in Half Moon Bay with Sassy Family. Well, the problem is, so was the rest of the bay area apparently. It was a shoulder to shoulder crap fest. We tried to make the best of it, but it really was terrible. Here's how much of the giant pumpkins I was able to see:
The highlight of the day was getting to take Sassy Daughter through the haunted house. No one else wanted to go so it was just her and me. How cute is she in her little Alice costume? She was so shy when the pirate talked to her.
She was totally freaked out, even by the decorations. She grabbed my hand and held on tight. When we walked through the haunted house, she actually jumped into my arms and hung on like a little spider monkey! It was the sweetest thing.
After the haunted house we parted ways with Sassy Fam. They were just as overwhelmed by the crowd as we were. So Match and I headed up to Marin and grabbed dinner at a pub. It was a nice evening and I was happy it was just the two of us.
In House news, we heard back about the appraisal. The great news is that it appraised for more than we're paying for it, so we have instant equity. Woohoo! The not so great news is the super picky FHA people are requiring that a small part of the outside be repainted before they'll approve the loan (lame). But that is small potatoes in the grand scheme of things. I'm just so relieved they didn't find any deal breakers. Next step is just to get the loan finalized!
I'm so excited to move for what should be a very, very long time. I counted it out and I've moved 14 times in the last

10 years

. How ridiculous is that?
In  travel news, it will be just 11 days we'll be leaving for Oregon to see my family!! I cannot wait.