Running a wedding should be fun. You know if I ever had a wedding I would want everyone to be stress free. You know I would like it to be a carnival. Like people win prizes guessing the bride's weight. -Officer Rhodes, Bridesmaids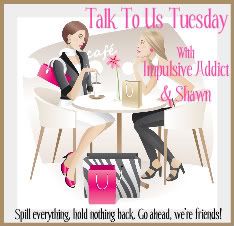 with two anti-bridezillas Impulsive Addict and Seriously Shawn.
As most of you know, I'm a bridesmaid in my friend Sassy's wedding this June. I am all about helping with the bridal shower, but I've been sort of dreading the wedding and the picking of the shoes.
You see ladies, I have foot problems. I have always had issues with arch and heel pain. So I'm a girl who always wears comfy shoes over fashionable ones. When I do dress up, I pick wedges all the way. I've never worn a true high heel before. Ever.  Sassy is a heel worshiper, so I knew she'd want us to wear high heels, and I told her my dilemma. I told her that the doctor said if I'm not used to wearing heels before pregnancy, I shouldn't wear them while pregnant. I tried to meet in the middle and we talked about a 2 in. kitten heel shoe.
Exhibit A:
then I get a lovely email last week from the MOH saying, hi ladies here is the shoe we're wearing. Now I will be the first to admit they are adorable. But check out that heel!
Exhibit B: The DEVIL HEEL
that's right ladies. This heel is an ULTRA high heel. It's 4.5 inches tall. Are you FRACKING kidding me?!
So I texted Sassy and asked about the shoe, and why the change. She said, sorry but the MOH made an "executive decision" and that's what we're wearing. I said I'm absolutely not wearing these at 7 months preggo. Sorry to be disagreeable but I can't risk the health of my baby for shoes. She wrote back, "Well I want you all in matching shoes and I can't please everyone." Seriously? The MOH has done nothing for the wedding so far, and I've done all the work for the shower. Everything, down to the invitations, the planning, organizing, decorating, the works. The only thing she's done is take care of food, which is being catered. Tough job eh? And she's worrying about pleasing her? Shouldn't she worry that her pregnant friend may fall flat on her face and ruin her big day?
I won't bore you with more details, but after quite a few snarky, downright rude texts from her, she finally said that it was fine if I wanted to pick out my own shoes, if I'm "so concerned for my safety". I could tell she was pissed. I worked myself up into a tizzy about the whole thing and ended up a crying mess in Match's arms. He was pissed as hell and said we should both just drop out of the wedding. He said he refused to let me wear those stilts anyways.
She finally wrote back that she was sorry for getting irritated. I wrote her that I've been dealing with a lot of stress  with this modified rest, and worrying about mine and the baby's health, and the last thing I care to worry about are SHOES. She then asked if I would feel better if I just weren't in the wedding. In a word? YES! I said I'd still help with the shower as long as I get the doctor's ok, but beyond that I just need to relax.
I'm relieved, but my heart is sad because I hate not honoring commitments. Match is thrilled because he really didn't want to be in the wedding in the first place. Neither did I really. I just wanted to help with the shower, because I think they're really fun. I wanted to do it because I wanted to, not because I had to. Ya know?
I'm also feeling very disenchanted with my friendship with Sassy. I feel sort of like she never really wanted me to be in the wedding, and just wanted my help, because she knew I'd go above and beyond. I've had the feeling that because I'm pregnant she doesn't want me in the pictures…and that's fine. I just want to sit in a comfortable chair to be honest with you.
So there you have it. That's the story of how I'm no longer a bridesmaid, all because of a pair of shoes. She did apologize again, and said she's very grateful for all the work I've done, and how she doesn't want this to come between us. I told her I'm happy for her, and I'm so happy to help with the shower, but that at the end of the day, I need to do what's best for my family. I may not even be able to be at the wedding due to being on rest. And the last thing I need is a bridezilla getting mad at me because of something that's completely out of my control.