There are about a hundred steps between where we are and our dream house. They'll be fun steps. They'll be sexy steps. And we'll try not to fall down them together. Okay? -Meredith, Grey's Anatomy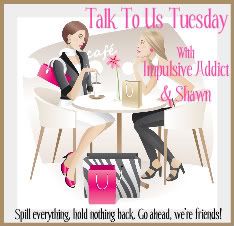 Even though I'm on vacation, I'm still talking  with Impulsive Addict and Seriously Shawn. Come join the fun!
Looking around our house at all of our packed boxes, I couldn't help but get nostalgic. As excited as I am to move, I think a small part of me will miss this little house. It was the first house Match and I lived in together. Before that it was a duplex and of course apartment hell.
It was the first place we lived as a married couple. We spent our entire first year of marriage in this house. It was the scene of so many big events in our lives.
The kitchen where I learned to cook so many tasty (and a few not so tasty) culinary experiments.
The bedroom where we giggled ourselves to sleep. Where Match did his "sexy chicken" dance.
The living room, where we curled up on the couch watching tv shows and the fire on cold nights.
Where we had our first real Christmas tree. Not that tiny joke of a tree from the year before but an actual tree.
And the front porch, where we drank tea and watched the rain. Where we toasted to Match's graduation. Where I would kiss him goodbye on that first night shift at the jail, when I was so nervous and excited for him.
And this is the house that we were in when we got the call about our offer being accepted on a house, and where we danced together, laughing and crying happy tears.
Yes, the new house will hold even more memories for us, and I can't wait to build them. But I think it's important to honor the first home we had. The place where our married life began.