Ross: Monica's pregnant!
Joey: Oh, my…! Is that why you guys had to get married?
Monica: Guys! I'm not pregnant. –Friends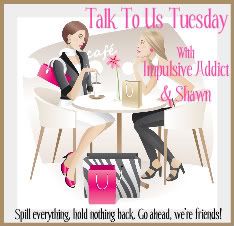 with Impulsive Addict and Seriously Shawn.
Sunday was the wedding and I was trying to get over my nerves. I was really excited about the cute dress I'd found, and I'd actually managed to get my hair to cooperate and hold a curl. I was feeling great and looking forward to seeing our friends. My hubby was looking mighty fine and I was so happy he was able to come to the wedding with me.
My confidence was shattered in the first 5 minutes…in which Token Gay Guy (who I guess didn't know about Roo, even though it was all over facebook and we'd messaged him) came up to me, patted my belly affectionately while saying, and how are you two? It was a complete shock to my system. Match looked at me in horror, TomBoy about fell over, and it was everything I could do not to fall to pieces right then and there.
Monica led me to the bathroom, where I was able to pull myself together while Match explained to Token about our loss. I refused to cry during the wedding. It was their day, it was a happy day, and I wouldn't spoil it. I think it hurt even more because it was so unexpected from a close friend who we thought knew the story. I shook it off, and got back to the festivities.
It was so good to see my girls again. It'd been a whole year since the last time the four of us were together. I may have overindulged. But I think it was ok given the situation. We had fun, and slowly I started to loosen up. I found myself talking about Roo a lot though. I was happy when I did, but I worried later that I made people uncomfortable. Match said no one seemed to mind.
I also may have freaked out a complete stranger in the bathroom. She was very pregnant, and I just started blabbing away about labor, and birth and how it's all very exciting. Then of course she asked me how old my baby was, and I had to say that she had died. I felt terrible because I must have seemed 3 shades of crazy to this woman. I just feel a connection with other mothers, especially pregnant women. If I'd had my filter on, I never would have said a word. But oh well, hopefully I didn't freak her out too badly. I was really upbeat and happy and told her that pregnancy is amazing and to enjoy every minute.
The rest of the night was spent dancing and having fun. The bride and groom looked amazing, and their wedding vows were beautiful.Check out that over the top dress! She rocked it, and she was glowing all night.
Monica and I grabbed her for a picture, and I think she was afraid we were going to knock her down in our drunken giddiness. We managed to keep her upright!
Match was able to relax a bit and enjoy himself with cohiba cigars and hanging out with friends.
The group tried to convince us to head to the dance club where the post party was, but we opted to go back to the inlaws. I'm so glad we did because I woke up just a little hung over, instead of drastically, as I would have been had I gone out.
I'm hoping to see more of the group while everyone is in town. I'm happy to report that we still had fun together, and they have nothing but love for us both. It felt good to be a part of that again. I did cry the whole drive home, but I think I just needed to let it out. Match was amazing and held me close, made sure I drank lots of water before bed, and cuddled me to sleep. Now that beats the hell out of a night at the club.