Booth: [baby cries] You hear that?
Brennan: Sounds like a cat…-Bones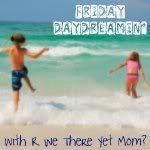 This Friday Daydreamin' we're supposed to write about what we love. I love curling up like kittens with my hubby. Yesterday it was so nice out that we decided to nap on our deck.
We watched the clouds float by and talked about how we're going to camp out in the backyard in the summer. Then Match pointed to the lawn and said, "Can't you just picture Roo camped out here in a tent?" I can't wait for family "camping" trips to the backyard. Roasting smores around our firepit. I love daydreaming and curling up with my hubby like kittens.