[narrating the play, with Rose acting out Henny Penny's actions] Once upon a time, on a beautiful spring day, Henny Penny was waking up from a nap under an oak tree, when an acorn fell from the tree and hit her on the head. [fake paper acorn hits Rose on the head] Funny, when I was a little girl in Sicily and they told this story, it was a safe that fell on her head. –The Golden Girls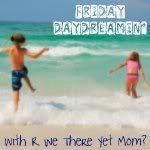 This week Becca asked us what spring means and our vacation plans. I'm still stunned that it's already March. I'm daydreaming of our spring trip we're taking later this month up to Oregon. We originally planned the trip just to see my cousin's concert at SOU. He's a music major and incredibly talented. Roo is going to hear his/her first classical music live!
Now unexpectedly it looks like my parents might be getting time off work to join us. We haven't seen them in 4 months and I'm so excited. I didn't think we'd be able to see them at all during my pregnancy. We're hoping to rent out a vacation home together for two nights. I can't wait!
The last time we were up in that area was the summer before our wedding. It was such a blast! I know it won't be as warm as in the summer, and there won't be any fishing my chunky butt out of the pool with pool nets but I'm kind of relieved. I'm ready for spring but I'm not ready for the heat! I'm daydreaming of fresh crisp Oregon air, beautiful green parks and quality family time.