Terri: [handing Quinn pregnancy supplements] Take three times a day, or your baby will be ugly. –Glee
It's time for another: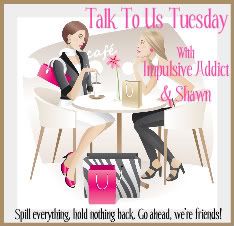 I'm linking up with Impulsive Addict and Seriously Shawn.
So unfortunately this past Friday I woke up to a pretty good amount of bleeding, which was scary as hell. I went to the doctor and was put back on pelvic rest/modified activity. It looks like everything is just fine with Roo (I got to see my little cutie on the ultrasound, and he/she hiccuped for me, so cute!) but for some reason my hoo-ha is spotting. What the h-e-double hockey stick?! They think it's due to too much activity, so I'm back to putting my feet up on the couch and wearing my trusty chastity belt (BOOOOO!).
With all this extra free time, I decided to take part in the Paper Coterie April photo challenge. I'm not going to do them once a day, but I think I'll check in once a week and share them with you. Hopefully I can keep it up. It's a pretty lofty challenge! It'll be a welcome break from the online shopping I have been doing. I'm looking for a father's day gift for Match. I'm thinking a nice tactical luminox 3051 watch would be pretty cool. But anytangent, back to the challenge!
April 1-3rd:
1. My Home:
We updated the plants in the front yard, and we'd like to do some more work soon. Eventually we'll paint the house too. We want to do a dark charcoal grey with white trim.
2. My handwriting:
When I concentrate, my handwriting is decent. When I'm in a hurry it's really messy. Here's a little excerpt from my pregnancy book.
3. My smile:
I like my smile-thanks to years of painful orthodontist work. I do wish I had whiter teeth, but no one's perfect!