George: And here we have the living area, where we does our living. And here we have the dining area, where we does our dining. And through this door is the kitchen area–
Louise: Where we does our kitchening. -All in the Family
Guest Blogger: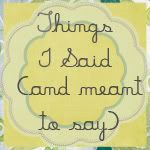 I don't know if you guys loved DG's bridal shower post as much as I did, but I thought it was adorable, and it looked like so much fun! I think Couple Wife did a wonderful job with so many creative ideas, such as the hand-painted wine glasses and the pin-up photo of Match was a hilarious touch.
While DG enjoys her vacation with Match, I thought that maybe you guys might like to see another bridal shower, just to get some more wedding-related eye candy. This past weekend, while on a family vacation in San Diego, I attended my future sister-in-law Tiffany's bridal shower along with my mum, my aunt, and her bridesmaids and mum.
Look at all the amazing food that Tiffany's mom, Linda, and her Maid of Honor Christine cooked! My favorite was the platter on the lower right—it was like Caprese salad, but instead of basil, it consisted of tomato, mozzarella, and avocado drizzled with balsamic. It was such a delicious and California-inspired variation on what is probably my favorite salad. Oh, and all those bottles of wine and champagne on the counter? Yeah…we went through all of
those. And then some.
The favors that Christine got for the girls who attended the party were these sterling silver wine stoppers, with little hearts on top. Aren't they super cute? Tiffany loves wine so it was a nice nod to her and who couldn't use them? Unless, of course, you love wine so much that you don't have a problem with finishing off a bottle once you open it!
As you can see above, Christine had a great idea of framing "instructions" at all the little stations she had set up so that the guests could either participate in little games or leave something special for Tiffany. The stations that I didn't get to take pictures of included a stack of super cute, pre-printed recipe cards (the shower was culinary themed) on which we all wrote recipes
for the soon-to-be newlyweds and placed them in a personalized cookbook that Christine had made up. Another really great idea of Christine's was to have each guest write her name and address on an envelope to make mailing the thank you notes easier, but with a fun twist—each girl got to drop her name into a bag and then Christine would hold a drawing and give prizes to
whosever name was drawn! Isn't that a fun, yet practical, idea? I really liked this special touch. Christine had Tiffany and my brother Brian's engagement
picture framed and asked us to all sign the frame with a special message for them. It was a nice souvenir for Tiffany to keep, and I bet she'll hang it up in their new house. I wrote that I was excited to be her sister. (Speaking of that, Tiffany's brother and sister are named Scott and Michelle. I also have a brother Scott, and I am, of course, Michelle. Isn't that bizarre?)
Tiffany had a blast opening her culinary-themed presents. I had gotten her a really nice silverware set intended to be used for holidays and special occasions. It came in a polished wood case with felt lining and everything. Unfortunately, after shipping it across the country, this is what it looked like:
Thankfully Tiffany is super sweet so she just laughed and hugged me anyways. She really loved the gift. (But of course, as soon as she moved on to the next one I snuck over and assembled them in their correct positions. I was so embarrassed at how awfully they looked!) Though a culinary-themed shower isn't nearly as giggle-inducing as, say, a lingerie-themed one, there were still some silly moments and even sillier gifts. For example, one of Tiffany's
bridesmaids, Katie, included this little number in her gift:
We all got a pretty good laugh out of the gift, especially when my aunt, who had had many glasses of champagne, suggested she could get double the use out of it by wearing it backwards! I think Tiffany definitely blushed after that one! I think every good shower needs silly, even embarrassing moments like that one—just like DG's moment with Match's butt in front of his mom. Our moms used to be giggly twentysomethings, too! Christine had a lot of cute games planned, such as Bridal Pictionary, but in the end the hours had
flown by and before we knew it, we were packing up the food and sending it home with the girls.
In a way, I felt sad that Christine didn't get to do all the things she had undoubtedly put so much time into planning but I was also happy for Tiffany that her shower was so organic and relaxed that we didn't need to rely on games for socialization. I suppose every shower has its own feel—though, personally, when my best friend throws mine for me in a few years I want games and giggles and blushing!
I hope you guys enjoyed taking a peek at my future sister-in-law's bridal shower! She and DG are getting married quite close together and I wish both of them the best of luck and give them both my love!