Huh, what's the matter? You don't like my house? Does my house stink? That's right it stinks! –Rocky
I confess…
That Match and I went house hunting yesterday and it was exhausting but exciting all at once. We found a realtor we love. No more bitchface! This guy knew his stuff. He wasn't pushy, and he took time out of his day to show us the downtown area and restaurants he thought we'd like.
I confess…
That there was one fireplace that was big enough for me to live in. Look at the size of that thing!
I confess…
That I'm sad that Sassy Couple won't be our neighbors, but this is a better town for us. I made Sassy Girl promise they'll still visit.
I confess…
That it amazes me how badly some people will abuse a home when they've been foreclosed on. Check out what this toolbag did to their house when the bank took it back. Like it wasn't their fault they defaulted on their home loan…some people are so lame.
I confess…
That there were some homes that were too dirty to even go inside. I would have had to spend a lot on musty odor removal austin and cleaning just to make it livable. No matter what we end up buying we'll definitely need to lok into http://www.thesteamteam.com and get the place professionally cleaned. Who knows what or who has been there before us?
I confess…
That I cannot wait to be a homeowner. It is such an emotional process and I'm trying so hard to not just fall in love and instead be logical about this. I'm trying to stay grounded people. It is not an easy task!
I'm also doubling up this post with a Friday Day Dreaming meme hosted by R We There Yet Mom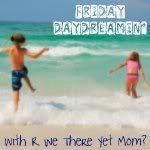 It's a fun little blog prompt where you post one of your favorite vacation pictures and tell a little about it.
Right now I wish I was here:
This was taken in Emerald Bay in Lake Tahoe last summer. The weather was perfect. Not too hot, not too cold. We drank bloody marys and rode around in Tahoe Couple's boat. Unfortunately they don't live there anymore and they sold their boat. 🙁 But I would love to go back to Emerald Bay sometime in the near future and rent a boat for the weekend. But I think that will have to wait until after we buy the house. Where is my money tree when I need it?!