Ted: The truth is: My friend, he does this thing where he goes to airports with fake luggage to pick up girls and we followed some here to Philadelphia. That's it, that's all this is!
Airport Security Guard: Nobody's that lame. –How I Met Your Mother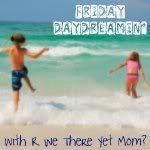 I realized after joining this little linky party that I really haven't been too many places, especially with Match. We've been to Seattle once, Carmel, Tahoe, and Oregon. That's it! We really need to get out there and see the world. So I was looking through some old photos of my Pre-Match days, and I stumbled across my weekend trip to the East Coast.
It was probably the most awkward trip in the world. I went to see my boyfriend at the time, Coast Guard Guy, graduate from the Coast Guard in Cape May, NJ. What made it awkward was that his mom, whom I'd never met before the trip, was my travel buddy. She was also with us everywhere. Oh, and CG and I were on the brink of breaking up, so it was awkward sauce all around. I wasn't going to go, but the flight was so cheap and I had never been to the east coast, so I went.
Why am I daydreaming of it then you say? Well we made an overnight stop in Philadelphia and actually took some time to go sight seeing. I would love to go back there with Match and really experience Philly. I never even got to try the cheesesteaks!
We were only there for one night, but we did manage to see the rocky steps. Adrian!!
It would be so fun to go back to Philadelphia with Match and stay for more than one night, recreate all of these pictures, and not have his mom there. Well, at least my MIL likes me. This chick, on the flight told me that she was pretty sure her son was going to dump me…an hour into our cross country flight…Ouch! Just looking at them makes me grimace a little because that guy was such a JERK and his mom was such a biatch.
I also really want to see the Liberty bell and check out the museums. Too bad flights aren't as cheap as they were back in 2007. My roundtrip ticket from California to Philadelphia was a whopping $99 bucks! True story. Now that's something to daydream about!