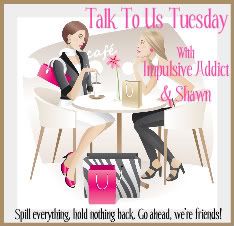 with Impulsive Addict and Seriously Shawn
My baby is 2 months old! I can't even believe it. Time is flying by so quickly. I love each new stage, but I am ok with time slowing down just a little bit.
His milestones include smiling, cooing, lots of head control, grasping toys, and increased visual awareness. He follows us with his head when we walk around a room, and he has become more interested in toys, colors, and his reflection. Who can blame him? He's a handsome fella!
He still loves to perch on our chests for snuggles. His favorite new game is practicing sign language with Mommy and Daddy. We
always get lots of smiles and giggles when we sign to him. He might not know what we're saying or doing, but he likes to wave his hands back at us when we sign to him. 

Piglet had his 2 month checkup on Wednesday. He weighed in at a healthy 9 lbs, 13 ounces! It's hard to believe at one point he was only 5 lbs, 8 ounces (day after he was born, after losing fluid weight). It's amazing how far he's come. His Dr. said he is doing great, and he's completely healthy. Then it was time for his first round of vaccinations.
Watching my baby get his first shots was incredibly painful. I think I cried more than he did. He had been cooing and babbling and then bam! Stuck with a needle. Here he is shortly after-he was still in shock that it'd happened.
It was worse when we got home. His leg swelled where the first vaccine poked his flexed leg (why the nurse didn't let him relax his leg first is beyond me!) and he was in pain. I finally got to see what a truly fussy baby is like. My heart goes out to those parents! He was fussy for about an hour and then calmed down and slept. I cannot imagine having a fussy, colicky baby on a regular basis.
He was feeling fine by the next day, and right back to his smiling, cooing, even laughing self.

Those smiles and happy little sounds make our days. I'm overwhelmed with just how much we love our little guy.  We're having so much fun watching our little man grow!