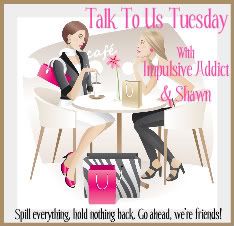 with Impulsive Addict and Seriously Shawn
I'm going to take this TTUT to pour my heart out a little. I'm feeling very disenchanted with my family at the moment. No one on my side of the family has met Piglet yet, not even my parents. I'm very very disappointed in my parents particularly. I just can't believe they haven't met their grandson yet.
Some of you may remember I blogged about not wanting them to visit the first two weeks. It's ironic that I worried about it, as now we are having the complete opposite problem.
It all started when she refused to get her whooping cough booster, and all of my Drs as well as his pediatrician said anyone who would be holding him in his first 8 weeks needed their booster. This caused a pretty big argument for us, because she said she didn't "believe" in the shot. I said I couldn't believe she'd risk getting her grandson sick. Given our history, given what we went through with Roo, don't we have the right to be just a little bit overprotective? And it's not like I'm making up this requirement. It's all over the news here, and all the Drs in my area are insisting everyone get their boosters if they're going to be around infants. So I told her she'd have to wait to visit until he got his first round of vaccines, which he'll be getting this month.
I mentioned before on the blog that I was thinking of making the trip to Oregon. Now that Piglet is here, and I know more about what's involved, what he needs, the more I realize it's just not realistic to expect us to drive 9 hours with a newborn. He nurses every 2 hours, sometimes less during the day. He also has reflux, and the car seat isn't always the best for him. He prefers to be leaning forward rather than backwards. Not to mention all the gear he'd need, how much work it would be for us, ecetera. Maybe when he's older, say around Christmastime. I talked to my mom about our plan to visit at Christmas, and I mentioned again that I'd really like them to come see him before that.
This is where the excuses have started coming in. First she said that they're too broke to visit, and yet they took a trip up to Portland (4 hours away) to visit my brother and his kids. I told her how hurt I was, that they were too broke to visit us, but they could make the trip there. I realize it's closer, but if you're broke, wouldn't you be saving every penny? A 4 hour trip still costs money. Now she's claiming they're having car trouble.
We ended up getting in a pretty big argument over the phone. She complains a lot about how so many other people have gotten to meet him and not her. She said that I was the one keeping them away, because they won't get their vaccine. I told her she can visit anytime after his first round of shots, and that she only has herself to blame for not being able to visit sooner.
Now she says that the summer is too hot for them, and that their dog won't be able to handle the heat. Then she said that Piglet isn't that interactive yet, and went on to tell me how much fun she's been having with her other grand kids, who are 5 and 7. She said she can't wait for Piglet to be that age, and since he's so little, it's not like he'll remember them visiting now anyways. I was completely floored and stunned that she would say that. Yes, he may not remember it, but he'd be able to look at pictures. And I will remember.
I have always had a bit of a complicated relationship with my mom. I've often been frustrated with their lack of planning, their financial irresponsibility, and their unwillingness to travel to see me. She has missed out on so many important moments in my life. My bridal shower, my baby shower, and now she's missing out on time with my baby. They will also more than likely miss his first birthday. The excuse is always money, and yet she will tell me about trips they take, money they spend on various things, and I find myself biting my tongue.
I can't help but think of how they always seem to afford trips to visit my brother and his kids. I know it's closer, I know it costs less, but not by much. It all comes down to priorities, and being willing to put forth the effort. If she can do it for my brother's family, why not mine?
In the meantime, I've tried to make sure that she feels included. I send pictures all the time, and I'm always asking if she would like to skype with us so she can see him. She skyped with us once right after we got home from the hospital, but hasn't since. She always says they're too busy, or that she doesn't feel like using the computer. Skype is free! Why is even something that simple so hard for her?
I'm very grateful for Match's family, and how involved everyone has been. His sister has come up twice to see him, and she lives the same distance away as my parents. She doesn't have a lot of money either, but she has made her nephew a priority. I'm grateful for that all of my friends here have gotten their booster without complaint, and that everyone has been so eager to visit him. I just wish my parents would do the same. I mean seriously, who could resist this face? How could you not want to meet him?!