Suzanne: Oh, Charlene, that reminds me. I saw two things on TV I gotta tell you about. Now first one is, there was a segment on the news about that league of breast feeding people you like so much, you know, La Leaky.
Charlene: Suzanne, it's La Leche.
Suzanne: Oh, well. Whatever. -Designing Women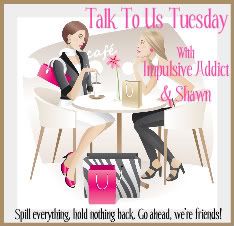 with Impulsive Addict and Seriously Shawn
Piglet is 3 weeks old as of yesterday (this morning since I'm posting this on Monday night)

I can't believe he's almost a month already. Time flies by so fast!

He's already sleeping in his own room, and he's doing great! We moved him in the second week, because we quickly discovered that he's a LOUD sleeper. He likes to grunt and make all kinds of noises, and flail his little legs. I would get up thinking he was awake and in turn I'd be waking him up more than I needed to. So we're all sleeping a bit better now that he's in his room, and we can just watch him on our video baby monitor.
I'm still up at least every 2-3 hours to nurse, but it's getting better than the first week, where I was up every 20-40 minutes it seemed. Whoever says nursing is easy is FULL of it. It is a full time job and a huge labor of love. I'm grateful to be able to do it, but I'd be lying if I said I loved it. I don't mind it sometimes, but on the nights he's up every hour, and when he's using my nipple as his pacifier, it's downright HARD. Still, when he gives me that satisfied little burp and curls up in milk coma, I melt a little bit.
One fun bonus to breastfeeding is that I'm already noticing the pounds coming off. This picture was taken a week ago, and I've been losing inches steadily. The instant boob job is pretty cool too. I'm going to be sad to see those go! I've still got a ways to go to get back down to my original weight, but I'm happy to see some progress, especially with not being able to do more than walk right now.
I'm really anxious to get cleared to work out again, and to be able to lift more than Piglet. I don't want to overdo it, because I know how important it is to heal. But it can be really frustrating not being able to use my ab muscles. I am hoping to be cleared next week at my OB checkup. Fingers crossed!
Match and I have been enjoying this past week to ourselves. There have been lazy afternoons where we all curl up for naps, Monkey included. It's a sleepy, mellow household, and I love it. 

Match still has this week with us, and next, and I'm soaking up all the quality family time I can. I'm also enjoying all of his hard work and help around the house. He's even helped feed Piglet when I've pumped so I can get a quick break. I'm so glad Piglet takes a bottle too. He's living up to his nickname. So long as we're feeding him, he's happy! 
I've missed you all, and I promise to try to come by each of your blogs. I hope you'll forgive me for the lack of communication! I'm starting to catch up on my sleep a bit, and my brain is a little less fuzzy. Much love to you all!