Castle: Reading the paper? You are going to lose all of your wired teen hyper texting nano gizmo street cred.
Alexis: I'm a rebel. I kick it old school.-Castle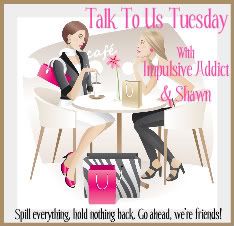 with Impulsive Addict and Seriously Shawn
Emmymom tagged me in Old School Bloggin' style and I'm so glad, because I didn't have much to report this week. I've just been getting the house ready for my baby shower (Tminus 11 days if you're reading this Tuesday!) and keeping super busy with church activities. I sang my first solo at the church last week, and if I can figure out a way to edit the video archive posted on their site to just my song, I'll try to share it with ya'll. I'm in my 30th week of pregnancy, and I'm LOVING Piglet's gymnastics routine. I'm also puppy sitting this week, and I have a million things on my to do list. But enough about the boring mundane stuff, it's time to answer questions:
What were you doing 10 years ago?
Wow, 10 years ago I had just moved in with the guy I was convinced I was going to marry-Flame Boy. I was commuting to San Francisco State from Napa every day, and it was sort of hell. Moving in with him was a terrible decision, and one I would later regret hugely. I don't miss that time in my life, but man do I miss this figure!!
Oh, and that terrible faux fur lined jacket? You guessed it, my Ididn'tknowhewasgaybutshouldhaveseenit boyfriend picked it out for me. I'm also leaning against his flame painted mustang. Red flag much?
What 5 Things are on your to do list? (just 5? My list is a mile long, but this is just some of the stuff I need to do this week)
1. Make thank you card for my baby shower hostess Geeky
2. Make height chart for nursery
3. Learn my alto part for the Hallalejah chorus by Easter Sunday (not much time left!)
4. Attend the breast feeding class put on by my hospital and hopefully learn something useful
5. Remove all window coverings from downstairs windows Thurs in preparation for our new windows to be installed Friday!!!
What are 5 snacks you enjoy
1. Turkey jerky
2. Wasabi peas
3. Chips and salsa
4. Dried mango slices
5. Apple slices and peanut butter
Name Some Things You would do if you were a millionaire?
Definitely buy my digital SLR! Buy a house in the country with property, so Match would be happy and so I could get some chickens. Pay off all debt, and then pay off both sets of parents' debt, and pay for the best divorce lawyer money can buy for my brother's divorce so that poor guy can move on with his life and get rid of that adulterous beezy once and for all. Set up a college fund for Piglet, invest, and then go on a long overdue vacation with Match. I'm thinking tropical island, after I can drink again, and when I'm ready for a babysitter. 😉 Oh, and a personal trainer to get my body back in pre-pregnancy shape first. 😉
Name some places you have lived
Oregon, California
Name some bad habits you have
I'm a very sloppy eater. I always have to remind myself of table manners when I go out in public.
I am pretty addicted to the internet. I connect first thing in the morning, and I am connected all throughout the day. I try to stay off the computer when Match is home, and I hope to spend less time online when my little guy gets here.
Name some jobs you have had:
cashier at a Kayak shop, candy bagger, Petco animal specialist, Marine World Education guide, Veterinary Technician, Project Manager of a wine testing lab, IT Support Helpdesk Specialist, Freelance Writer. Man I've had bunch of random jobs!
Well that was fun, and thank you Emmy for giving me something to write about this week!
I'm going to tag:
Phoebe-The Girl That Dreams
Hot Pants-Handbags & Handguns
Dandy-Spontaneous Clapping
Charlotte-My Pixie Blog