March comes in like a lion and goes out like a lamb. -English Proverb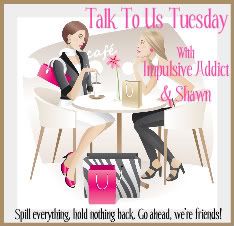 with Impulsive Addict and Seriously Shawn
Wow, are we really in the 3rd week of March already? Did anyone else feel like this month just fly right by? 

The weather has been beautiful and sunny here. There was no real "Lion" weather to speak of in early March, it's pretty much been Lambtastic around here. I have to say I love these days, where it's nice enough to open all the windows and get the fresh air, but not so hot that I have to run around closing everything up and hiding from the sun. That'll be May-September weather. So I'll enjoy the fresh air and mild temps while we have them.
Sunday I taught my second to last Sunday school class for the foreseeable future. Just one more to go-if I don't back out next month. I'm starting to get the 3rd trimester fatigue, and those kids wore me OUT! Having to bend down and help them glue their crafts, and searching under the table for lost pieces of paper was not easy. But I love their enthusiasm, and their funny stories.
My favorite? One little boy telling this big story about the leprechaun that helped him find his lost ring. He had me help write him a thank you card. I must confess I had to google how to spell leprechaun while I was writing it for him. Thank goodness for smartphones or else this "teacher" would have felt like a real fool.
I've been a busy bee working on getting the house ready for my shower, which is in T-minus 18 days! I have an awesome DIY project I've been making for Piglet's room, that will double as decorations for the shower. I'll hopefully have them done by next week and will share them with you.
I also managed to get my picture gallery up for the dining room. Some of the pictures are place holders, and will probably be rotated out for pictures of Piglet when he arrives. For now my first "baby" has a special spot on the wall. Yes I know it's ridiculous that I have an 8×10 of my dog on my wall, but whatevs. Also please forgive the way the camera makes the canvas picture look. It was evening and the flash was bouncing off of it.
I love the way the picture gallery and the triptych break up the space. The room is really coming together!
Match has been working a lot of overtime, and I miss him! But the time away makes us appreciate each other more, and he's always so excited to see me, and rub the belly when he gets home.
We had another awesome checkup yesterday, with our "little" guy weighing in at a whopping 3 pounds, 1 ounce at 29 weeks. He's in the 55th percentile and doing great! Match and I are both nervous that he's going to be a big baby at birth. So long as he's healthy, that's all that matters. But if he wants to be born at say, 7 pounds instead of 9, with a nice small head, mama would be ok with that. 😉