My first college party – drinking piña coladas with a dude and talking about math. -Wallace, Veronica Mars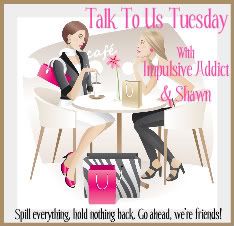 with Impulsive Addict and Seriously Shawn
Friday night I met up with an old friend of mine from college, Party Planner. We hadn't seen each other in 6 years, but it was as if no time had passed. She couldn't stop touching my belly and Piglet was very generous with his kicks for her.
 She was a friendship I lost when I was stuck in a terribly abusive relationship post graduation. I let so many of my friendships go, mostly out of embarrassment. I didn't reach out to her because I was afraid she would think I was a jerk for disappearing the way I had. Luckily for me, she saw it more as losing touch. She didn't know about the guy being abusive, and I didn't know about some hard things she'd been going through. It felt so good to clear things up.
We also had a heart to heart about Roo, and as it turns out her best friend just lost their daughter at full term in January. Party asked me for my advice, and I shared with her the positive lessons I've learned from our experience. It felt like fate that I would happen to reconnect with my friend during this time. Hopefully my advice will help her friend, but truly only time will make the pain get easier to bear. My heart aches for her friend, and I just wish I could wrap her up in a big hug.
We had a great time reconnecting and reminiscing about the past. We recalled our epic parties, and how even in college we always put a lot of thought and planning into our parties. She's actually now a professional event planner, and it's so perfect for her (hence the nickname Party Planner).  This picture was from my 23rd birthday, and our "couple" pose.
I managed to dig up this gem of a picture. What the HELL are we doing? I think I was trying to cover my spare tire and butt from being photographed, and failing miserably. 
Sadly in our eagerness to catch up, we forgot to take new pictures. Pictures now would be a lot less wacky! We had a great visit and I hope we get to do it again soon.