Dr. House: You have a parasite.
Jill: Like a tapeworm or something?
Dr. House: Lie back and lift up your sweater.[she lies back, and still has her hands up]
Dr. House: You can put your arms down.
Jill: Can you do anything about it?
Dr. House: Only for about a month or so. After that it becomes illegal to remove, except in a couple of states.[he starts to ultrasound her abdomen]
Jill: Illegal?
Dr. House: Don't worry. Many women learn to embrace this parasite. They name it, dress it up in tiny clothes, arrange playdates with other parasites…
Jill: Playdates?
Dr. House: [shows her the ultrasound] It has your eyes. -House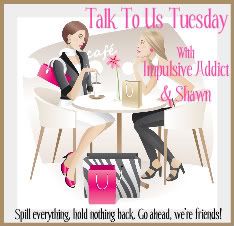 with Impulsive Addict and Seriously Shawn
This week has been a mellow one, but full of smiles. Match and I had a great date night out on Tuesday, where we ate great food and just enjoyed each other's company. We are trying to have more date nights because we know that when Piglet arrives, they will be harder to come by.
On Thursday, we had our bi-weekly checkup with the Dr. and we got to see Piglet do the funniest thing-he flexed his little bicep for us. No joke, he actually moved his arm up, and then made the flex pose. Even the Dr. was cracking up! I hope you ladies have tickets to the gun show. 😉
The ultrasound picture of Piglet's profile was also pretty amazing. I can't believe how clear the image is. I can already tell he's going to look a lot like his Daddy. Hi handsome!
Piglet's kicks are becoming more and more frequent, and I've been dying for Match to feel them too. I want him to connect even more with our son, and to get to share in the incredible feeling. Friday night as we were laying in bed, I was telling Match how I can't wait for him to feel Piglet kick. He said, "oh it's probably too soon still, I'll feel him eventually". And I put his hand on my belly and said, "One of these days he's going to do it, and it's going to be awesome." At that exact moment, Match felt him move. He looked at me in awe and I think he finally understood why I've been making him sit and try to feel the movements for the past week.
My bump seems to be growing exponentially every week. I was so excited when I discovered I can finally wear the tee shirt I made back when I was first pregnant with Roo, and you can actually see the bump. I feel like it looks like I'm smuggling a cantaloupe under my shirt! Oh and this picture makes me realize just how short I am. I am really not that much taller than the doorknob.