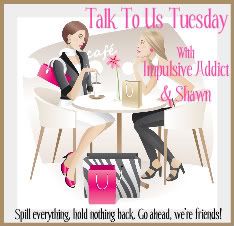 with Impulsive Addict and Seriously Shawn
Grandad: Waste of money if you ask me, come all this way and all.
Del: What do you mean a waste of money? They're beautiful! Not only are they exquisite ornaments, guaranteed to brighten any sideboard, they are also a revolving musical box!
Rodney: They are China cats that play "How Much Is That Doggy In The Window." -Only Fools and Horses
It's not even the end of January and I've already completed a few 2013 goals! Last week we crossed off #17. Buy a sideboard for the dining room. I think it updates the room and makes it feel less like a college room and more like an actual dining room. This is a big deal for me because I've been wanting this sideboard since the day we moved in, and I finally got it. Yay!
Here's the before. We were using an old cutting board as our bar area and napkin/place mat area. I hate how cluttered it looked, and how much it clashed with the dining room table.
You have ignore our hideous light fixture over the dining room table. That's on the list for this year too. I can't wait to replace it! I'd also really like to reupholster the dining room chairs with a latte colored fabric to match the love seat.
And here it is now. I love the clean crisp look, and how much storage it has. I was able to fit all of our wine glasses, our serving bowls and trays, nice silverware, tablecloth, napkins and place mats.
We also rearranged the furniture to open up the space more. I wish I'd remembered to take a before picture, but the love seat was right next to the dining room table, and the rocking chair was under the window.
Eventually I'd love to have a window seat under that bay window. I'd also move the family room couch into this room, and have a conversation area. Maybe someday!