Nothing is terrible except fear itself.-Francis Bacon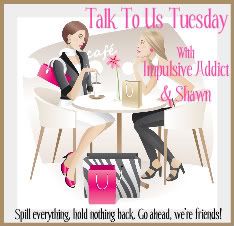 with Impulsive Addict and Seriously Shawn
This week marks the point of loss for me. We lost Roo when I was 19 weeks, 2 days. I am exactly that far along in my pregnancy with Piglet as of today. It is a relief to hit this milestone, but it has not come without fear and frustrations. I started spotting on Friday and Saturday, very lightly, but enough to make me freak out. I haven't had any pain, so I knew it was probably nothing, but the timing couldn't have been worse.
I contacted my Dr. who believes it was from the internal exam he had to do on Thursday, and he reassured me that all was well with the baby. But he did promise to see me this Thursday, even though I'm not due for another checkup until the following week. I love that he respects my fears and what I'm going through, and is quick to accommodate me and reassure me. I really feel that I have the best team of doctors and nurses in my corner, and they will do everything they can for Piglet and me.
So Saturday when Match did his overnight overtime shift, I needed some distraction. My good friend Miss PhD came to the rescue, armed with her adorable new furbaby, this lil puffball Australian Sheppard puppy, who I will just call Fluff on the blog (she has a much cuter name, but I'm respecting her privacy).
Monkey was so good with her, and I was proud of him for being so patient with this 3 month old pup.

Fluff was the perfect cure for my worries, and for an evening I didn't over think or stress about lil Piglet. Instead I got my fill of puppy cuddles and girl talk with Miss PhD. We made under cooked brownies and ate til we were stuffed. It was such a fun night!
And the best part? While we were sitting on the couch watching a movie, my belly full of brownie, Piglet gave me a very distinctive kick. It was like he was saying, "I'm good in here mama, don't worry." 🙂
Since Saturday I've felt pretty good, though I know the battles with these fears will continue throughout this pregnancy. It's only natural for me to worry, especially when I do keep experiencing spotting. But luckily no pain or cramping, and thank god no heavy bleeding. The Dr seems to think all is well, and that my body is just sensitive and tend to spot from exams (lucky me!). I am grateful that I haven't allowed the fears to take complete control, and I refuse to let them. I can get scared, acknowledge that fear, and then let it go. I refuse to let it overshadow the joys I feel during this pregnancy. I just keep visualizing that healthy baby boy in my arms early this summer, and I know it will be so.