Let's write big butt on the chalkboard. -Butt-head, Beavis and Butt-head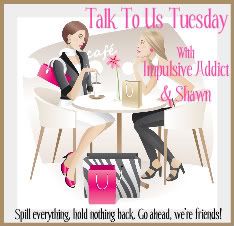 with Impulsive Addict and Seriously Shawn
This is a prescheduled post because my parents are in town! While I'm sitting on the couch directing them with my tiara on, while they do projects for me around the house, hehe, I thought I would share with you a fun little addition to Piglet's room.
Recently the lovely Holly from: 

 sent me this chalkboard vinyl. Originally I'd planned to use it as a menu for the kitchen. I didn't realize how big it would be! Then Match came up with a great idea-why not use it for Piglet's door? What kid doesn't want to draw and decorate their bedroom door?
So here's how it looked when we first put it on the door. It came with bubbles on the sides as well, but it didn't fit on the door, so we trimmed it. I still think it looks cute with the scroll on the top and bottom.

I got some chalk and did a little decorating. I'm sure I will change it a million times between now and Piglet's arrival. I'm thinking countdown to the due date, or updates on my pregnancy, and eventually, shh baby sleeping messages. There are so many possibilities!
Try to ignore the big line in the middle of the vinyl. Match got a little excited helping me peel it off and the back stuck together. But I don't think it's too noticeable.
Have you tried out chalkboard vinyl? If not, go check out Poppy Seed Projects. She has all kinds of adorable craft kits that will spark your creative side.  And guess what? One of my lucky readers has a chance to win a $20 gift card to Poppy Seed Projects! Just enter below, and tell me what your favorite product on her site is. There are so many to choose from!