Chandler: I'm never gonna find a roommate, ever.
Phoebe: Why, nobody good?
Chandler: Well let's see, there was the guy with the ferrets, that's plural. The spitter. Oh-ho, and yes, the guy that enjoyed my name so much he felt the need to make a little noise every time he said it. "Nice to meet you, Chandler Bing, Bing! Great apartment, Chandler Bing, BING!"-Friends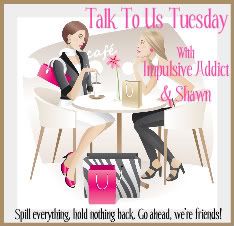 with Impulsive Addict and Seriously Shawn
I think some of my long time readers will remember my lifelong friend, Miss PhD. We've gone to school together since the 2nd grade, and we've stayed in touch all through our college and adult lives. She's the one who convinced me to go on Match.com where I met my amazing husband. So you can imagine my delight when I found out that her job would be transferring her from Washington, DC to their California office, just 30 minutes from me!!
She came over on Friday night, her first night in Cali, and we got to do a lot of catching up. Then Saturday I took her to all the outlet stores where we did my favorite kind of shopping: home decorating. Then because I'm a huge geek I helped her out with her TV and DVD purchases, and even set them up in her new apartment for her. Her place is this adorable renovated Victorian in the heart of downtown. She can walk to restaurants, coffee shops, book stores. I think it's the perfect place for a single woman. I hope she's happy here, and I'm looking forward to getting together for hikes, walks, and of course the occasional wine and girl's night!
Sunday I accompanied Match's parents to a funeral for Match's great aunt, who passed away at 86. She lived a full, happy life and the service was a wonderful celebration of her life. I definitely felt like a part of the family. I was there without Match, since he had to work, and the family seemed really happy that I came in his place. Listening to the stories about Great Aunt really touched me, even though I only met her once, at our wedding. I could just picture her in heaven, maybe rocking Roo and singing her a bedtime story. I could feel a lot of love surrounding everyone, and I think it was the perfect way for the family to say their goodbyes. The building the service was held in was this really interesting old building in downtown Sacramento.
It's a boy's club, called the Sutter Club, where I would imagine quite a few poker games must take place. I think you'd also be hard pressed to find led light bulbs as every fixture looks like it's as old as the building itself. I have an affinity for old buildings, and I took a few pictures that didn't really do the place justice.
Yesterday marked the kick off to Match's vacation! The poor guy has my awful cold, so we spent the day lounging around the house. Hopefully he'll be feeling better soon and we can go on some fun day trips around here. With this awesome cold weather coming in, I'm ready to drive to the coast for a big bowl of clam chowder.
So what have you been up to this past week? Catch me up!