Winston: Can you please call an exterminator so we can get rid of that crime against nature? [cut to a stuffed dummy witch with a hammer over a mouse hole]
Jess: Yeah he's not fooling anyone. You think just cause he's a snappy dresser the mice don't see the hammer? Mice come from all over the building to laugh at that dummy witch! -New Girl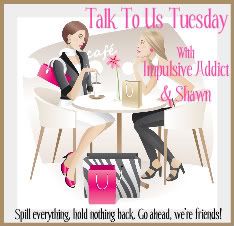 with Impulsive Addict and Seriously Shawn
I'm posting early cause I'm out of town at the inlaws. No rules=I can do what I want!
I think we finally got rid of all the mice in the house! Last Monday we declared war, and ran around the house stuffing steel wool into every possible opening in our house that we could find. We also set snap traps and made sure there was poison and a snap trap in every room of the house.  We killed one mouse, and I think the rest are already dead. I'm going to keep the poison out (out of Monkey's reach of course) because I'm worried they'll return. I'm so glad they're gone-I was getting ready to call estate lawyers and get my money back for the house!
This past weekend was a tough one for me. I was very down and I missed Roo terribly. I ended up meeting up with Good Girl and her twins and being her helper for the day while we attended a NICU reunion at the hospital she had her twins at. The boys are almost 8 months and are so interactive and fun. They were laughing in tandem and it was the cutest thing ever! It's funny how sometimes spending the day with babies can make me feel better when I'm missing mine.
I can't say the same was true for a party I went to last week with Hippy Chick, and Match, over at Walking Couple's house. Hippy Chick had her ergo baby carrier, and she asked me to hold the baby in it. 
Something about the weight of the baby on me like that, in almost a pregnant belly fashion…it was awful for me. It felt very comfortable, but almost too much so. I'm not sure how to describe the feeling other than it left me with a very big ache in my chest. I ended up giving the baby back to her, and I didn't hold her the rest of the night. I think I've been spending too much time with her baby, and it's very confusing for my heart. She isn't MY baby and holding her in the ergo felt way too familiar for me. I love spending time with my friends' babies, but maybe not so much time with the same one. It's also very hard because she's a baby girl, a girl who was born just a week after Roo. There is only so much my heart can handle, and I just have to take a little break.
I've started my Halloween decorations, because it's officially fall. I just wish the weather got that memo. It's been in the upper 80s since last week and I'm hoping it starts to cool off soon!
Sunday I sat in on my first Unikids class-what my church, Unity, calls their prek-1st graders. I was a helper, and next week I'll be teaching by myself. I had SO.MUCH. FUN! I was educated on the amazingness that is Starwars by one little boy, and I sat and colored with a little girl who told me all about her plans to dress up as a princess for Halloween. They sort of listened to the lesson, but mostly they played, and the teacher said that's fine. The point is for them to have a good time. I can't wait until my teaching day next Sunday!