Ew he even sounds mean… Like the end of Summer! -Quinn, One Tree Hill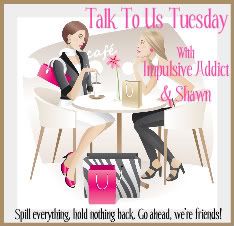 with Impulsive Addict and Seriously Shawn.
My Uncle and his family came to stay with me on Friday. It was so much fun! That's two weekends in a row that my house has been full with people. I heart a full house! My aunt is a licensed therapist, and she took one look at me and declared that we needed to have some retail therapy.
Most of my clothes are older than my relationship with Match, eep! I also happen to be guilty of wearing clothes that are too big, because they are cozy. This does nothing to flatter my figure. So my aunt went in attack mode, grabbing clothing off the shelves and ordering me to try them on. That's truly the only way to shop with me. I'm such a cheapskate. She also forced me out of my comfort zone and into smaller sizes that flattered me.
She insisted on buying me everything, which was over the top generous. I would never have bought all those tops for myself. I can't wait to model them for Match. It really is amazing what the right fitting top can do for your confidence.
We had dinner downtown at my favorite sushi joint. It was so good to see my family and get some quality time together.
I've been kicking my booty at the gym. So far I've done the step class, cardio kickboxing and zumba. Kickboxing and zumba are my favorites. I could NOT keep up with those old ladies in step. It was ridiculously complicated. Zumba was too, but as long as I wiggled I looked like I knew what I was doing. So far I've lost 3 pounds and I'm feeling fantastic. Working out is my therapy, and boy do I need it. I also love that our gym has close captioning on their tvs, so I can watch one of their tv stands from anywhere in the cardio area while I work out. It makes the workout go by so much faster!
I love having Match go to the gym too. It reminds me of when we first started dating-we'll catch each other's eye across the gym and wink. I love stealing a quick sweating kiss in between workouts too. Plus all the endorphins make us both feel a little frisky! 😉
I'm loving the cooler weather. It's still pretty hot during the day, but it's starting to cool off at night. I can't wait to use our firepit again. I've got a backyard update to show you in my next post. Til then, catch me up on your end of summer. Whatcha been up to?