I have OCD. I throw away a broom after I've used it once, and you think I'm gonna get married at a campground? -Emma, Glee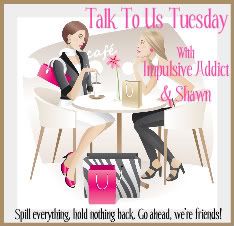 with Impulsive Addict and Seriously Shawn.
Had a long overdue lunch last week with Mrs. Makeup. Got some really cool stuff from her that I will be talking about on the RCL later this month. Check out this week's entries. We're kicking off the Swag Countdown. There are a lot of really cool companies we're reviewing, and there may be something in it for you too!
Speaking of old friends, another class of 01'er, Hippy Chick, is moving to the area. Not just to Cali, but to MY TOWN. How crazy is that? She just recently had a baby, and her and her hubby are moving here so he can go to grad school nearby. I'm thinking a reunion with her and MM is in order. In my small graduating class of only 60 kids, there are now 3 of us living within an hour of each other. I love how life works out sometimes.
I've been battling with the home warranty company again. I should get a liability insurance quote for a new company once ours expires. I'm sick of being on hold for 30 minutes for their error!
I've been a busy bee this week prepping the house for our potluck on  Sunday. It's a goodbye party for Monica, and also a kick off to Match's week off work/moving to DAY SHIFT.
With all the cleaning and my OCD, I was getting sick of the dog hair. So I decided to take action and attack the hair at its source! Lucky for me, Monkey actually didn't seem to mind it!
I'm so unbelievably excited for Match's schedule change. I think it will do wonders for us both. It will also mean 4 days off per week, except when he does overtime. We'll be able to go on mini vacations, and get so much done around the house. Poor Match-I'm already working on a huge honey do list. 🙂
The biggest thing I'm looking forward to is getting to sleep next to each other every night. I really miss that 4 nights out of the week. I'm hoping this new schedule will make him less grumpy too. It's so hard on the body to stay awake all night, and during his work weeks he can be such an old grouch! Here's hoping the day shift makes him a happier camper!