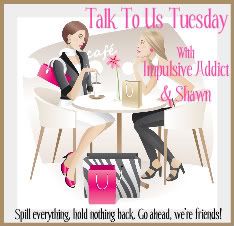 with Impulsive Addict and Seriously Shawn.
My house is in chaos with this painting project. We only have two doors up, and all of the bathroom doors are being painted. For the first time my house is NOT company ready.
Monica, Chandler and Tahoe Girl are coming to visit on Wednesday. Ack! This means I have to get at least one bathroom door put up by then.
My OCD demands that all of the doors be finished by then.
For once I'm grateful for the heat. Dry paint DRY!!
This project has made me add to our ever growing list of DIY projects, and projects we need to save up for to have a contractor do. Why didn't we buy gold bars when our friend gave us that advice a few years ago? We'd actually have the money to pay someone to do all of this stuff.
I guess the DIY part is pretty satisfying when it's all done.
Hopefully I get these doors finished by tomorrow. Or I'll be seeing a lot more of my house guests than I would like!