Trish: [sniffing] Do you smell that? Marshall: No. Trish: Smells like there's a little bitch in my gym. Are you being a little bitch in my gym? Marshall: No. Trish: Then get on the floor and give me a hundred!-How I Met Your Mother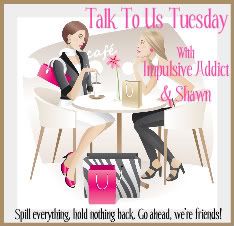 with Impulsive Addict and Seriously Shawn.
First off I can't believe I didn't post for a whole week. Holy crow that's a long time for me. I was caught up with a busy whirlwind week and weekend.
I've started working out again and instead of spending my days inside, I've been lacing up my running shoes and hitting the pavement. I can't tell you how DAMN GOOD it feels to exercise again. I'm starting to get my body back, and I feel more like myself than I have in months. This past week has been the first week I could jog without pain in my lower abdomen/uterus, and it felt so so good to get back out there.
My goal is to get in the best shape I possibly can before we start trying for our next baby. I want to have a strong, healthy core. The endorphin kick I get doesn't hurt either.  I do not want to have to worry about having to get a tummy tuck to fix the stomach area. 
This past Friday Match and I went to watch his fellow SERT team members (Sheriff Emergency Response Team) compete in a competition against other SERT team members from different departments. Match was sad that he couldn't compete, but because he'd missed so many practices because of bereavement, he couldn't participate. I could tell it was killing him. Hopefully next year!

 It was really exciting to watch them compete, and I was blown away by the women on the teams. Here they were, doing the exact same events as the men, and some were outdoing them. These women are seriously hardcore. I'm totally inspired to kick up my workouts a notch. If they can scale 8 foot walls, run, lift super heavy steel pipes, and go through obstacle courses, then I can make it through my 10 min ab workout video. NO EXCUSES!
I don't want to have to worry about looking at liposuction down the road. I know liposuction prices can vary, but I'd rather go without it if I can help it!

I really don't want to be that girl who can only fit into plus size quinceanera dresses.
The weekend went by way too fast. Match only really had one day off, since he was busy helping out with the SERT team all Friday. Saturday was spent snuggling on the couch and relaxing.
Sunday I had a down day. One where I woke up so sad and missing Roo so much it made my chest ache. My solution for days like this is to head to yard work. You'd be amazed at how therapeutic pulling on stubborn weeds can be. I also mowed the lawn. I've never operated a lawn mower. I may have missed a few spots, but I was pretty proud of myself.
Yesterday I got to spend the day with Good Wife and her 15 week old twin boys. I went with them to check out a home they're hoping to rent in their hometown, about an hour and a half from us. They are so much cuteness, but so much work! I  don't know how she does it every day. When one stopped crying, the other would start! I had fun being mommy's helper. It was so nice holding sweet snuggly babies all day.
When we got back, Match was awake and helped out with a feeding. Now isn't this just a precious sight? He's a total natural.
So what's new with you? Are you taking advantage of that beautiful sunshine and getting out of the house too?