Monica: We need to sort through the tickets as quickly as possible to see if we won. Does anybody have any ideas how to organize this? [abruptly] How about this – we divide them into six groups of forty, and the remaining ten can be read by whoever finishes their pile first.
Rachel: [raising her hand] I have another idea!
Monica: Sorry, idea time is over!-Friends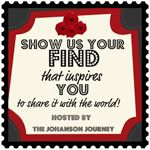 This is a find I've been meaning to share with you all for quite awhile. Back in January I was figuring out how to update my dry erase calendar. I hated the layout, and I didn't have enough room for all my notes. Then I looked on pinterest and saw some great ideas for DIY dry erase boards like these:
All you need is a frame with glass (plastic will not work) and a large piece of white paper to get started. Now mine isn't as pretty or fancy, but it works really well for us. I like that every month I can change up the color of the month, and add little drawings depending on the season. Click on the picture to see a larger view.
With my calendar, I picked green for Match's appointments, and red for mine. Blue is for both, and purple is for holidays. I hung it up in the entry way, right where we grab our keys before leaving the house. I love that Match actually uses the calendar. It keeps us completely organized and it makes my little Virgo heart go pitter patter. 🙂
How do you keep your family organized?