Officer Rhodes: You know my sister was maid of honor at my cousin's wedding and she found it so stressful her hair started falling off.
Annie: That's terrible.
Officer Rhodes: Yeah, it grew back but it was pretty gross. –Bridesmaids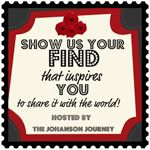 As most of you know, I'm a bridesmaid this summer for my good friend Sassy. I've been working on a few crafts for her bridal shower, and it's been so much fun! Walking Buddy came over on Sunday and we had a crafting night making these awesome pom poms I found on pinterest. I figured I should share them with you in this week's link up for Show Us Your Find brought to you by the lovely Janette at  The Johanson Journey.
Originally I was going to do teal like the picture I found on pinterest, but I struck out at every craft store I visited. No one carries teal tissue paper!

I found the step by step guide at MarthaStewart.com
So instead I opted for white with teal ribbon:
I think my favorite part of this project was that it only cost $4, and I still have leftover tissue paper and ribbon. Her colors are teal and black, but since we're doing black tablecloths, we thought these white poms with the teal ribbon would go really well. I can't wait to hang them up at her shower! This picture doesn't even do them justice. They're so pretty and they were so easy to make!
I'm working on a few other crafts and as soon as I'm done I'll be sharing them with you. What's been your recent find? Share it with us!