Oh, you'll start to love it, I promise, Kathy. Just think about it: Swap meets…bowling leagues…bingo…double coupon week… Casino Night at the slaughterhouse. IT'S YOUR DESTINY. –Roseanne
It's Tuesday and you know what that means! Time to grab a cup of coffee (make it Irish for me so I can live vicariously through you) for Talk to Us Tuesday: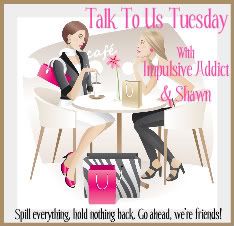 Earlier this month I signed up for the Seriously Impulsive Swap with Impulsive Addict and Seriously Shawn.
I've never participated in a swap, so I wasn't sure what to expect. I was blown away with the loot I got from my swap partner Boobies! Check it out:
I was immediately excited by all the candy! I also had to slap Match's hands a few times from trying to break open the candy while I inventoried the rest of my stuff.
Sorry I look like a hot mess. I had just taken a break from painting Roo's mural. I was NOT photo ready.
Boobies spoiled me rotten! I got two What to Expect books, which I desperately needed. I also got the most adorable scrapbooking stickers, and stamps. You probably can't tell from the picture but one stamp is a tiny baby foot. How cute is that? She also got Roo a lullaby cd that's all Pearl Jam songs redone. You can't say my kid won't be hip. 😉 I also got a makeup and jewelry bag which has spurred me to check out jewelry deal so I can fill it up. I also got a bunch of CANDY. Yummm. Just in time too since I've had a crazy sweet tooth lately.
So my first ever swap was a success. Thank you thank you Boobies for the awesome loot, and thanks to IA and Shawn for hosting a fun party!