Cam: Why so much tape Jay?
Jay: Why are you wearing a sweater when it's 95 degrees out?
Cam: It's my Christmas sweater!
Jay: Based on those stains, you are the Christmas sweater.-Modern Family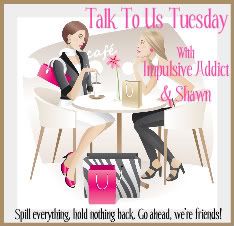 It's the first Talk to Us Tuesday of the New Year! Come play along with our fabulous hostesses: IA and Seriously Shawn
I never got around to blogging about Christmas or the last few weeks of December, so let me catch you up:
Christmas with the in-laws was great. Good company, tasty food, and time with family.
SIL Travel Girl was home for Christmas for the first time since 2008, so MIL was over the moon happy to have her whole family here.
I rowed a boat for the first time ever. It was a great back workout and so much fun. I can't wait to go again! I also couldn't help repeating "row, row, row" like on that commercial with the little hamsters. Hehehe.
After our hike we earned  a night out for sushi. It was our first time trying sushi in our new town, and it was ah-mazing.
On Thursday, we had a few of Match's coworkers, including Walking Buddy, over to help us break in the new firepit. I'm so excited to be making new friends in our town.
I think that catches us up to New Year's. I still can't believe it's already 2012. Anyone else feel like 2011 just flew by?