Hal: All right, men. Well, I hope you all learned something today, huh?
Malcolm (to the camera): I learned my dad is capable to doing something cool. I'm not saying violence is cool, but that was cool! I always wondered where we got it from. –Malcolm in the Middle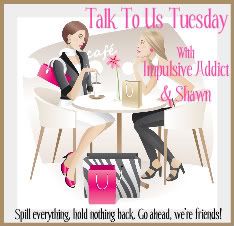 I'm curled up with my cup of tea for my weekly gab sesh with Impulsive Addict and Seriously Shawn.
There's still so much to tell you about our trip to Oregon. A lot happens in a week away! Today I'm going to tell you about the things that I learned this trip.
1. Match likes to be comfortable for road trips. Note the buckle.
2. Rainy nights sound amazing in a camp trailer. Waking up to that view is even better.
3. There is nothing quite like kissing in the rain.
4. Four wheeling with your hubby in the rain will get you extremely wet. Hey now! Not like that. Well I don't know what gets your motor going. I will say that the ATV does vibrate a little. 😉
5. My 8 year old senior dog can keep up with an ATV. We clocked him at around at least 30 MPH!! It was annoying because we were constantly worrying that we'd hit him. It was also damn impressive.
Here's a little video clip so you can see what it was like. Don't mind my maniacal laughter. Also this video clip reminds me of Edward running through the trees with Bella. My parent's woods look a lot like Forks. Except my vampire was spider monkeying on my back while I drove for this particular video. 😉
6. Running all day after a four wheeler will wear a puppy out. So much so that they fall asleep on your slippers and don't even notice.

7. After all these years I'm still the weird goat girl I was back in middle school 4-H. I guess I will always be part hick.
8. Watching a city boy try to feed goats is funny. They almost pushed him over a couple of times.
9. Initiating my parents into the funny hat club was awesome. I don't think we'll stop until every member of our family has one of these! I got my mother in-law an elephant, my mom has a racoon, and my Pops has a buck. We are such dorks!
10. It took moving away for me to truly appreciate how beautiful my hometown is.