Hilary: It'd a Bungee jump proposal
Phil: Oh please, whatever happened to getting down on one knee
Hilary: Daddy thats for old fogees
Phil: I got down on one knee
Geoffery: Sustained! –The Fresh Prince of Bel-Air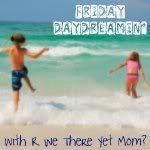 We just got home from vacation yesterday and I'm wishing we were still in Oregon. I've been dying to show you guys the proposal spot where Match proposed. The only picture I had from that night was pitch black. So here is the spot. You can see why he picked it right? It's incredible.
I made him re-enact the moment. I know, I'm so cheesy.
I wish we could live on the Oregon coast. If only there were some high paying Veterinary Technician Jobs that I could get, and Match could transfer his sheriff deputy job. I'm pretty sure Match and I would move in a heartbeat. But for now I'm content with visiting once or twice a year. I can't wait until we can bring our kids here and show them where Daddy proposed.