Jeremy: We are going to have tons and tons of opportunities to meet gorgeous ladies that are so aroused by the thought of marriage that they'll throw their inhibitions to the wind.
John: And who's going to be there to catch them?
Jeremy: Grab that net and catch that beautiful butterfly pal! What do you like better, Christmas or Wedding season? (raises hand)
John: Mister Grey.
Jeremy: Yes, um, the answer would be, um, wedding season?
John: Bingo. I'm gonna go get my suit. Oh, and now who are we this time? –Wedding Crashers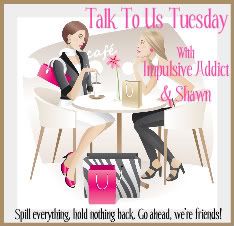 brought to you by: the ever Fabulous Impulsive Addict and Seriously Shawn
Sunday was Geeky's wedding. I'm so happy for her! It feels like just yesterday she was the guest at mine, with her Fire Guy doing the reach and trying to catch that garter. I knew then he was going to propose. And here we are just over a year later and she's a new bride! Her wedding dress was beautiful and she was beaming the entire night. You know I totally got teary eyed when they exchanged their rings. I'm so excited that she's joined the married club!

Awkward moment happened the minute the bridesmaids walked down the aisle. For you to know this was awkward first look at the dress I chose to wear for her fall wedding.
cute right? I loved it, and it was an absolute steal at Plato's Closet, where I got it for 8 bucks! I emailed a cell phone pic of it to Geeky because she had mentioned her bridesmaids were wearing brown. I asked her if my dress was the same color, and if it was too similar. She said no and to definitely buy it.
but I was regretting my bargain decision when the bridesmaids walked by wearing dresses almost identical to mine. 
luckily Geeky didn't care one bit. But remember bitchface girl from the bachelorette? Of course she had to say something snarky. There's always one in a group isn't there? I was feeling very self conscious but after the first few glasses of wine I got over it.
The wedding was a lot of fun. It reminded me a lot of our wedding. It was at a golf course, with the ceremony outside and the reception indoors. There were a lot more people at hers though, and she had a shit ton of bridesmaids. I'm soooo glad we didn't have any. Match and I kept joking around that it was the high price version of our wedding, since they had plated dinners and it was at a fancier building.
Geeky sat us at a table with a super fun couple from San Francisco. We clicked with them right away and City Girl and I exchanged numbers before the night was up. I really hope we get together with them soon. They were so fun!
Match and I danced all night. I wish I'd had someone snap photos because it's rare that we get to dance like that. Usually Match prefers to observe while I go out there and shake my tail feathers, but he was in a really social mood. He twirled me all over the dance floor and just like at every wedding we go to, I fell in love with him all over again. I love how weddings have that effect. 
The wedding was a ton of fun and I'm so happy for my friend. She's such a sweet and genuine person and nobody deserves happiness more than her!