Dennis Reed: It rains nine months a year in Seattle.
Annie Reed: I know! –Sleepless in Seattle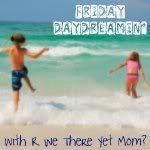 Today I'm daydreamin' of the first trip Match and I ever went on that wasn't to visit family. It was February of 2009, and for Match's birthday, his parents had given us plane tickets to Seattle! For some crazy reason, we decided to go in February, even though we could have waited, forgetting that the weather would be terrible. It was incredibly cold and drizzled every day. What I wouldn't give for some of that weather right about now! It's currently 90 degrees and HOT. So over it.
The city was beautiful, and we loved that there were hardly any people. I guess they had better sense than us and stayed indoors.

Wow, we look really different there. I think both of us have leaned out a bit.
The only problem with that trip was that Match got the flu.  Oh and the ATM ate his debit card. Whoops! I'm not daydreamin' about that.
I would love to redo the trip, spring for a nicer hotel, a rental car and a healthy husband. Still, I love that we made the best of our trip. We spent the last night snuggled up in our crappy hotel room with the threadbare blankets, eating hot soup from the Chinese place across the street. It was one of those just starting out vacations that only young people in love have, where you really only have each other.