Ross: All right, we have a tie. Luckily, I have prepared for such an event. (Pulls out flashcards) The Lightning Round!
All: Ohhhh.
Ross: Thirty seconds, all the questions you can answer.
Monica: You guys are dead, I am so good at lightning rounds.
Chandler: I majored in lightning rounds. All right, we're gonna destroy you.
Monica: Huh, wanna bet?
Chandler: Well, I'm so confused as to what we've been doing so far… –Friends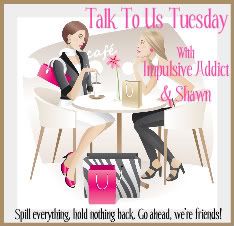 Today I'm linking up with two fabulous bloggers, my blog bestie
Impulsive Addict
and
Seriously Shawn
 for the first edition of
Talk to Us Tuesday
.  It's a link up where you talk to the hosts as if you're getting together with them for a cup of coffee or in my case, glass of wine. No rules, just say what you feel like!  It's going to be amazeballs so link up and come play!
Now grab your favorite glass of whatever, because I'm going to tell you about a little game we discovered over the weekend.
At the awesomeness that was Tahoe Mom's 60th birthday on Saturday, we were introduced to a new game. You all know how much The Group loves a good game.
The game didn't have a name, it was just referred to as Brown Bag Game. Of course I had to rename it. After playing for about a minute, I immediately yelled, "This game is called Brown Bag Bendover."
This became better known as Triple B.
This is what the game looks like:
As you can tell the game is simple. You have a brown bag, you bend over, and you pick it up.
The only rules are you have to pick up the bag with your mouth, and nothing on your body can touch the floor except for your feet.
It's not a drinking game, but it helps!
After each round, you cut an inch off the bag, making the game even harder.
At this point in the game someone yelled, hey that's like 7 inches! (It was when this picture was taken, so it was maybe 2)
To which I replied, "Who have you been dating?!" Yes, Triple B brings out my dirty minded sarcasm.
The  game gets a lot harder when the bag gets shorter. This is where people started falling down.
Tahoe Girl's Dad came up with a Lightening round, in which the bag was replaced with a paper plate.
The Lightening Round was damn hard.
At one point, Tahoe Dad gave Santa Cruz Chick some motivation by way of a piece of birthday cake.
We messaged Chandler and Monica in Scotland telling them they had to try the game Brown Bag Bendover.
To which Chandler replied, "Does this involve a butterface?" Hehehehe. That's a whole different kind of game!
So there you have it folks: Brown Bag Bendover, aka Triple B. Mark my words this game is going to be playing on every college campus nationwide. You're welcome America!