Ever since I was a little girl, I had this fairytale idea about the perfect wedding- Carla, Scrubs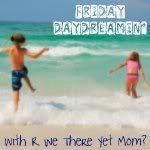 Holy cow I can't believe it's already September. Not just September, but one day before our one year wedding anniversary. I can't believe it's been a whole year already. Now if we'd had a real honeymoon, I would definitely be posting my daydreaming picture of us on it. As it was, we were too broke for a honeymoon. But if I could be anywhere right now, I think I would be reliving our wedding day.
I was so unbelievably, indescribably happy.