Penny: [about going with the others to a science conference including a spa treatment] Boy, this is great. I haven't had a vacation in ages!
Sheldon: In order to take a vacation, one first has to work.
Penny: You know, for a smart guy, you really seem to have a hard time grasping the concept "Don't piss off the people who handle the things you eat". [leaves]
Amy: That does seem to be a valid principle.
Sheldon: [waves her off] I trust Penny will adhere to the official California Restaurant Worker's Solemn Oath of Ethics and Cleanliness.
Amy: I don't believe there's any such thing.
Sheldon: [to Leonard] You lied to me? –The Big Bang Theory
I am enjoying the heck out of this week and Match and I having absolutely no big plans. After such a hectic last week, curling up on the couch is heaven! I'm relaxing and catching up on blogging. Now it's time for: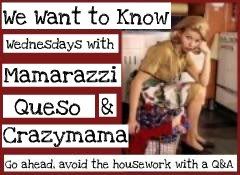 brought to you by:
Mamarazzi, Janette, Impulsive Addict, and Seriously Shawn
This week's questions were brought to you by my bloggy pal Impulsive Addict. Go visit her and prepare to laugh a lot.
Question #4 is from Amber and Nadine
Question #5 is from Vandy
1. What was the last thing you searched for online? You mean besides internet pron? I kid I kid. Actually I have been researching places to stay in Ashland, OR for a little honeymoon/first anniversary getaway with Match at the end of August! I'm hoping to stay in a nice hotel, visit the beautiful Lithia Park, maybe see a Shakespeare play and watch my cousin in one of his first college concerts. Should be fun!
2. If we visit your home state, what is one MUST we should do before leaving? Visit Sonoma County and the "wine country". While there are definitely some pretentious tools and some overrated wineries you might want to avoid, it really is beautiful, even if you don't like wine. And the restaurants are incredible! I have found very few that rival the quality of the food found there. Just promise to let me know when you visit so we can go wine and food tasting together!

3. What do you think pharmaceutical companies should invent a pill for that isn't on the market yet? Ugh. First of all I hate pharmaceutical companies and the rampant overuse of prescription drugs in this country. How about a pill that motivates people to get off their lazy duffs and go for a walk? Get some fresh air? Maybe crave a nice salad? 😉 Might work better than always looking for the next safest diet pills that work.
4. When was your first kiss? Was it good or bad? Ha, my first kiss was in 7th grade, I was 12, and it was behind the gym. Very stereotypical. Except the guy put his tongue down my throat and I thought it felt like a slug. It was disgusting! Oh and he had a girlfriend and I didn't know it so that caused some drama! Gotta love middle school.
5. What is your guilty pleasure tv show that you can not miss? I am a sitcom junkie. I guess one that's kind of embarrassing is Big Bang Theory because I'm a total science nerd. That Sheldon cracks me up.