This is the happy ever after part. And in the happily ever after, the guy is there all the time, saying things and the girls love it! -Derek, Grey's Anatomy
I'm participating in another fun link up brought to you by Mamarazzi at Dandelion Wishes. This is so fitting because I am so HAPPY right now.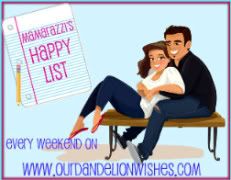 My Happy List:
In addition to Match passing his scenarios and me finally giving my notice, here are a few other things that have made me very happy this week.
These beautiful flowers from Match along with a card that got me all choked up.
Words cannot express how thankful I am that I have you. You are incredible. You are my motivation to succeed. You are absolutely amazing and I know you will go places. I can't wait to watch your writing career blossom. Thank you for being YOU! I love you with all of my heart. -Match
That's one of the things that makes me so happy with Match. Here he was the one who just passed all of those incredibly challenging tests and yet he got me the card and flowers. I love that man! I really need to get him a ginsu knife or something equally nice for his graduation gift. I should get on that…
Having a house full of friends last night to celebrate with us.
Margaritas, beer and laughing with friends.
Getting a new phone today with Match and convincing him that the unlimited data plan for $10 was worth it (YES!!). It's not quite as nice as my company provided Blackberry but it's mine. After transferring all the contacts I was able to delete every single one of the company contacts. Hitting that delete button made me HAPPY.

Snuggling up with Match on a rainy day, just the two of us, seeing how relaxed he was after such a long week most definitely made me happy.
What's on your happy list this week? Link up!